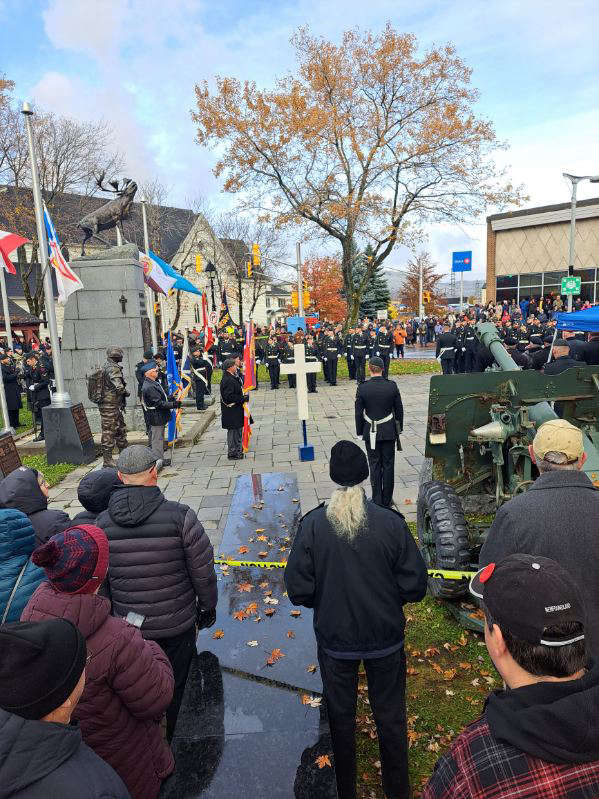 An estimated 2500-3000 people were present at Remembrance Square Saturday morning.
It may go down as one of the largest Remembrance Day ceremonies ever held in Corner Brook, as special guests, veterans, and members of the community gathered at Remembrance Square on West Street Saturday morning to pay tribute to those who paid the ultimate sacrifice, and those who continue to serve and protect our country.
An estimated 2500-3000 people were in attendance this morning, including a long list of guests, according to RCL Branch 13 Legionnaire Robert Murphy. "This includes both the 1st and 2nd Royal Newfoundland Regiment, the Regimental Band, Mounted units of the RNC and RCMP, Rangers, cadet Corps and Legionnaires."
Murphy says it's been awhile since the Regimental Band has been here.
"This will be one of the biggest, if not the biggest Remembrance Day that Corner Brook has ever seen," he says. "The Regimental Band hasn't been here for 8 years."
Corner Brook Mayor Jim Parsons also stressed the importance of attending Remembrance Day ceremonies. "It's great to see young families and their children starting a tradition by attending," he says.
BayFM also paid tribute to the day with a special program prepared in conjunction with the Royal Canadian Legion.